Are mirrors bad or good for budgies?
Mirrors are one of the most common toys being sold world wide for bird's owners!
With that being said, couple of questions come to mind.
Is it ok if I put a mirror in my budgie's cage?
Are Mirrors in your budgie's cage bad ?
In order to answer these questions, let's see:
why do budgies like to interact with mirrors, and when is it healthy to have a mirror and when it is not!
budgies are very intelligent creatures
Although they are very smart, but they can't figure out that the reflection is anything other than a second budgie.
So, mirrors are basically another companion for them, where this particular partner understands them pretty well, because it really imitates anything they do.
Which basically means, it's just the perfect companion (in the eyes of your bird).
That's why your budgie spends hours talking to the mirror, and make different sounds!
So for any parakeet or parrot owner, it is really amazing how his bird is making beautiful voices and spend a lot of time with its mirror.
You will see your budgie talks with the mirror, bobs its head up and down, and spend a lot of time in front of it.
You are happy, because you think your bird is having so much fun, as well as making a good show for you to watch.
Anyhow, leaving the fun aside, sometimes, this can really hurt your bird, psychologically or physically!
In a cage of two or more birds
Usually we don't need to worry about the mirror, and it's less of a problem.
Because budgies will have another bird to talk to, and spend time with, instead of the mirror.
With that being said, if you have a breeding pair, that means the male would spend quite some time alone, and the mirror could become a problem.
As we have said before, the budgie doesn't understand it's a reflection of himself, and he could interpret the bird in the mirror as invader, and become aggressive.
In which case, it's best to remove the mirror.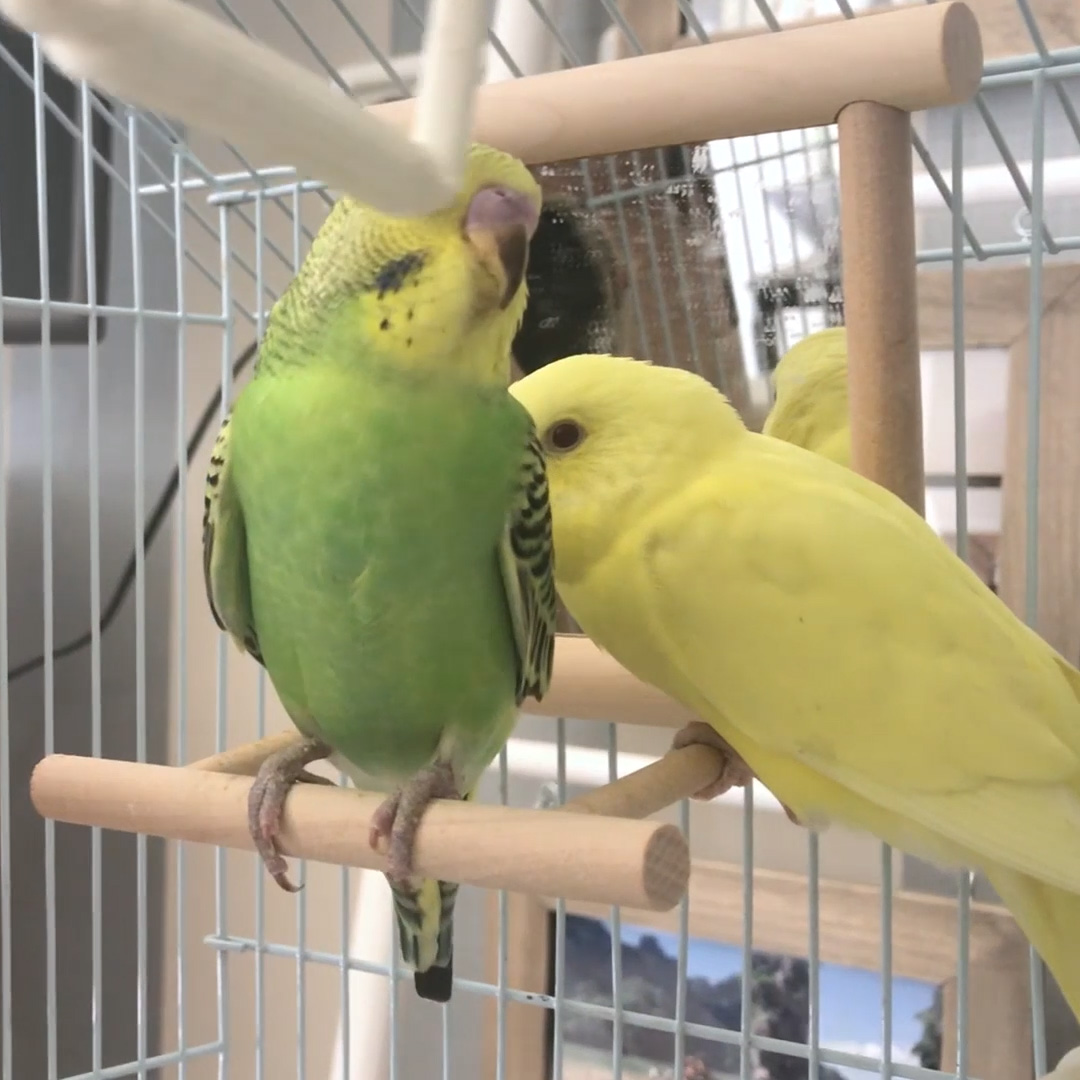 a single parakeet in a cage
The bird in the mirror becomes the chief companionto your parakeet, because there are no other parakeets to socialize with.
Your bird will treat the mirror as any other budgie, from playing and talking with it to even fighting with it, and some extreme cases mating and regurgitating food to the mirror!
But that doesn't automatically make it bad to have a mirror for your bird.
actually sometimes it could help your parakeet to spend sometime with a mirror.
So let's discuss how to know if it is becoming a problem or not!
There are two main behaviors that would indicate a bad sign, and need a close attention from you.
1. If the Budgie is Attacking the Mirror
Budgies, are really active birds, and they can have couple of small fights across their day.
Which means, your budgie would have couple of arguments with its mirror.
Actually if you have only one budgie, you might notice your budgie has some type of a bond with the mirror.
As long as the bond is not developing into more aggression and fighting that's perfectly fine.
However, if you see your bird is spending more and more time attacking the mirror, then you should either take the mirror out, or get a second budgie.
More often than not, the aggression is caused by the need for more socializing.
Either way, that means your bird needs another companion, if that being you or another budgie.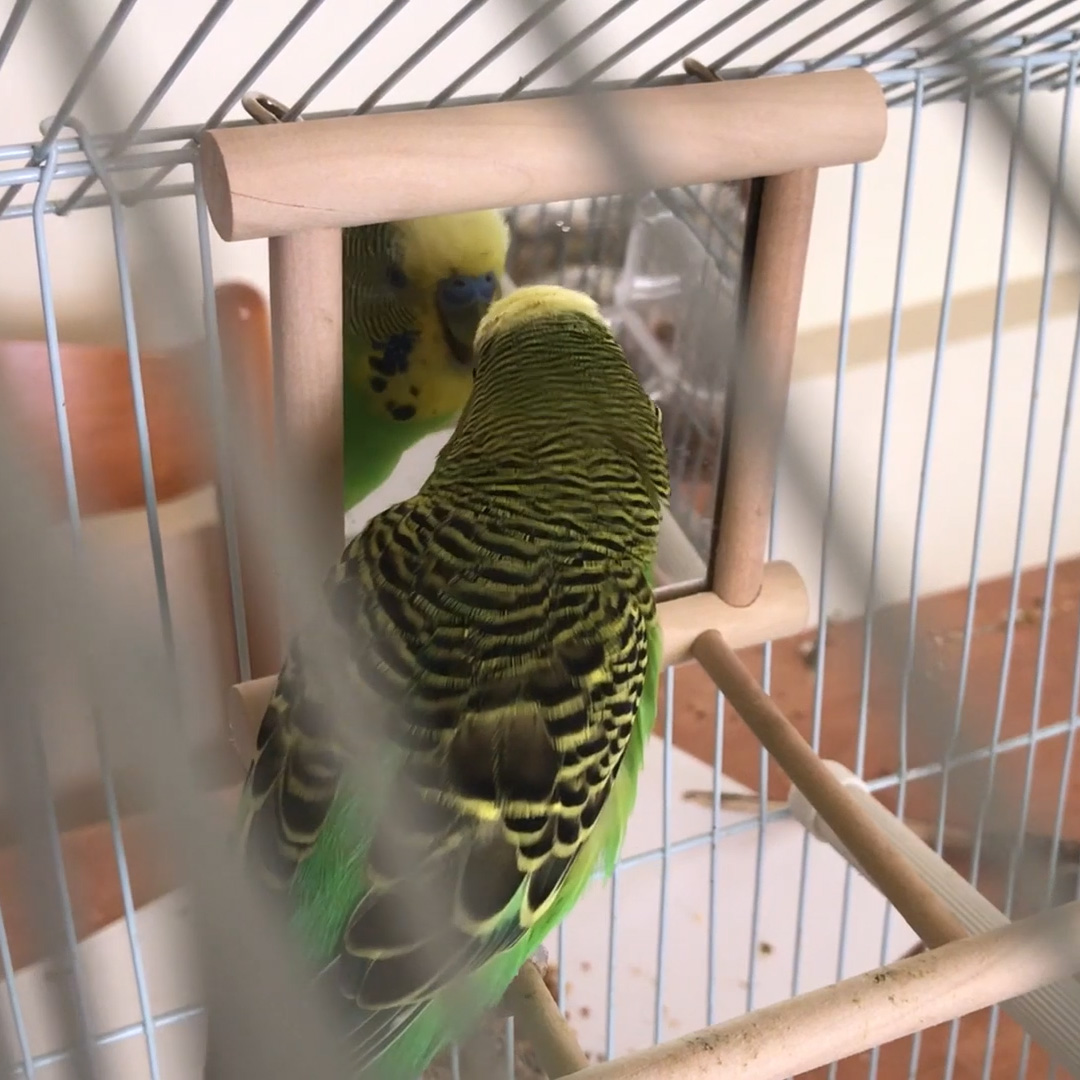 2. If the Budgie is Feeding the Mirror
One of the ways budgies bond with one another, is by feeding each other.
Specially paired budgies, you can see that behavior, where the male regurgitates food to the female.
However, the budgie who regurgitates seed to its mirror, he thinks the reflection is his mate, and he's trying to feed her.
If this occurs on a rare occasions then it's fine.
But if it's a recurring act, then it indicates that the budgie is in need of some proper company.
If your budgie keeps regurgitating food to the mirror, that means he is trying to feed his mate, and his mate fails to accept the food.
In that case, it's best to remove the mirror from the cage.
When your budgie keeps feeding the mirror and pick the food up and swallow it again and again, that is definitely not healthy.
because there is a danger of throat irritation.
The seed has digestive fluid in it, and if swallowed several times, it will have bad effects on your budgie's digestive tract.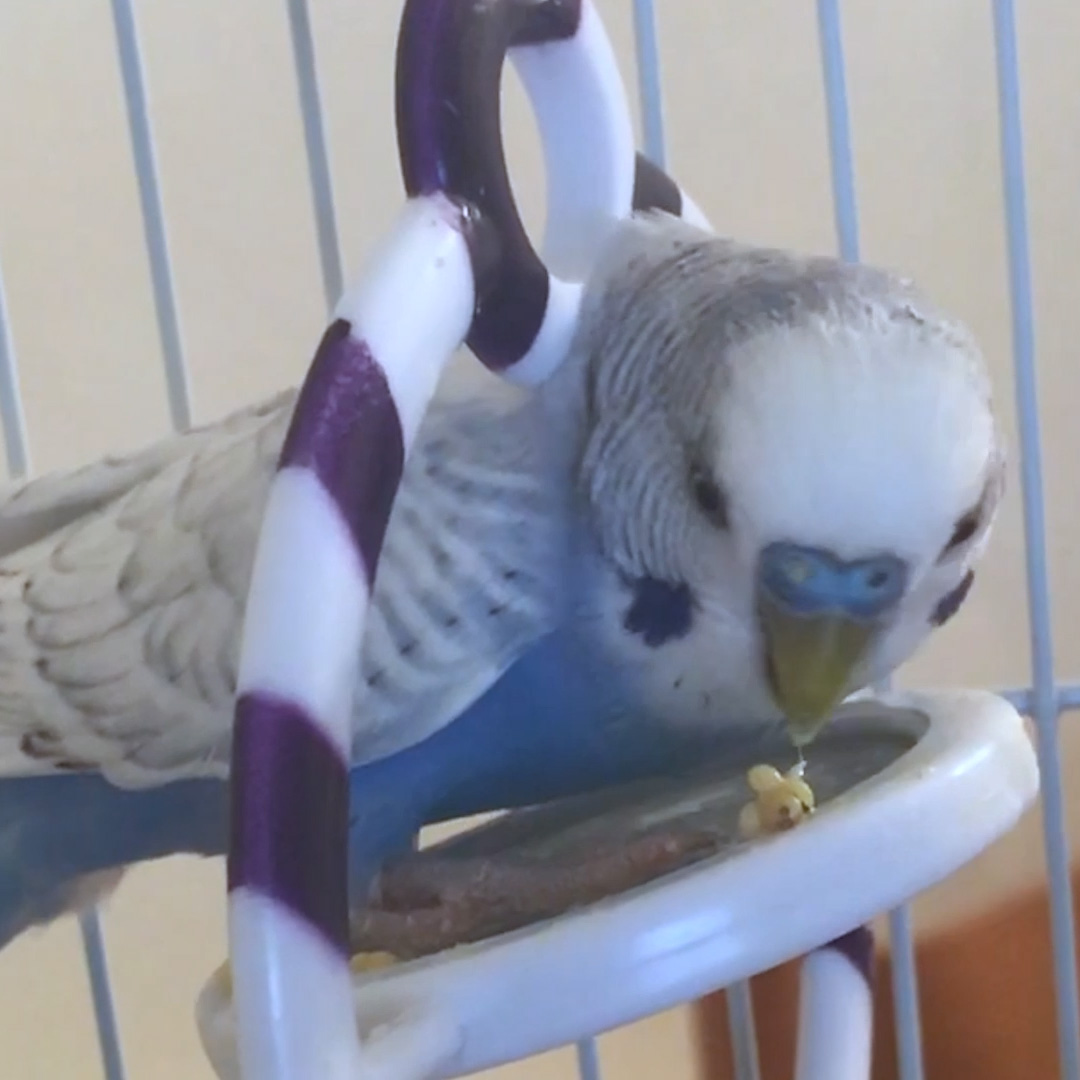 in conclusion
Mirrors aren't always bad. but whenever you introduce a mirror toy to your bird, you need to keep close attention.
Look for unhealthy signs and behaviors.
If you have more than one budgerigar in the cage, usually it's ok to have a mirror.
Otherwise, check your bird's behavior and see if it's a healthy relationship with its mirror or not.
If you are still not sure, it's best to not have a mirror and buy other toys.
There are thousands of other toys that your budgie would love to play with.